Your computer starts playing up or even dies, what do you do?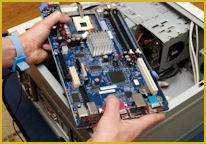 If you don't already have a trusted computer technician you use, you will probably turn to the internet or yellow pages. And here you will see an array of people offering their services. How do you wade through them to find a qualified person with the years of experience necessary to find the problem and repair it?
If you have toothache, you go to a professional dentist who has studied for years at university. If you want a builder to erect a house for you, you will inspect his other projects and maybe check if he belongs to the Master Builders Association. So why would you do any different when finding someone to repair your computer? There are a lot of cowboys out there who stick the label of computer technician on a website and no one knows any better. Be careful or your precious computer will soon be spare parts and he will be persuading you to buy a new one.
Consider the following when getting your computer repaired:
Education/Experience
A lot of so-called whizz-kids think they know it all but do they have training in all types of systems? Chances are, they know a few basics, but won't be able to give you a comprehensive answer to even the simplest question. They might even be able to put a band-aid on the problem but you will have the same problem resurface in no time. The only way to make sure that your computer is fixed the right way is to allow someone with experience and specialised training to do it. Read that website carefully and look for someone with a degree in electronic engineering and someone who has been in the business for years – the longer the better.
Security
Turning over your computer to a repair person also means trusting them with your data. Not only should your repair professional have a history of trustworthiness (as shown by happy customers), he/she should be up-to-date on all security issues.
Even if you trust your new repair professional not to steal your data, will he/she know how to protect your data from other untrustworthy people (i.e. on the Internet)?
Security training is vital to keeping your data safe and sound.
A Physical Address
Make sure your computer technician has an office and a workshop at a physical address that you can visit and check out. These computer experts will also come to you if necessary but check that physical address first. These days many of the self proclaimed technicians will insist on coming to you because they have no premises and that should throw up a red flag.
If you have any further problems after your computer has been returned to you, you want to know where to find your technician. Make sure your repair provider isn't going to disappear.
Always check out your computer technician thoroughly, perhaps even ask for references. That way you'll receive better service and better peace of mind.